Summer is approaching and many are already starting to think about their holidays. Sardinia, as every year, will be a favourite destination for those who want to spend a few days, or a week, at the seaside. In Sardinia you can visit beautiful cities and relax on unforgettable beaches, which is why it could be the ideal destination for those who want an itinerant holiday, moving to different cities and beaches.
The main question for those who decide to spend their holidays in Sardinia is: do you reach the island by ferry and take your car or camper van, or do you land in Sardinia by booking a low-cost flight and rent a car at the airport? Reaching Sardinia by ferry may be the best choice for those who want a cheap and practical solution, especially if you are travelling with your family and dog, or if you are planning a travelling holiday with friends. But let's see together why the ferry is better than the plane and especially how to save money.
Sardinia to discover
Using the ferry to get to Sardinia allows you to easily reach places where there is no airport and which obviously cannot be reached by land.
Without neglecting the fact that using the ferry to reach Sardinia will be a considerable economic saving and a great convenience compared to having to rent a car in the place of destination.
Booking a ferry to Sardinia, and then travelling by car or camper van, will be an opportunity to discover this wonderful island in depth, and freely.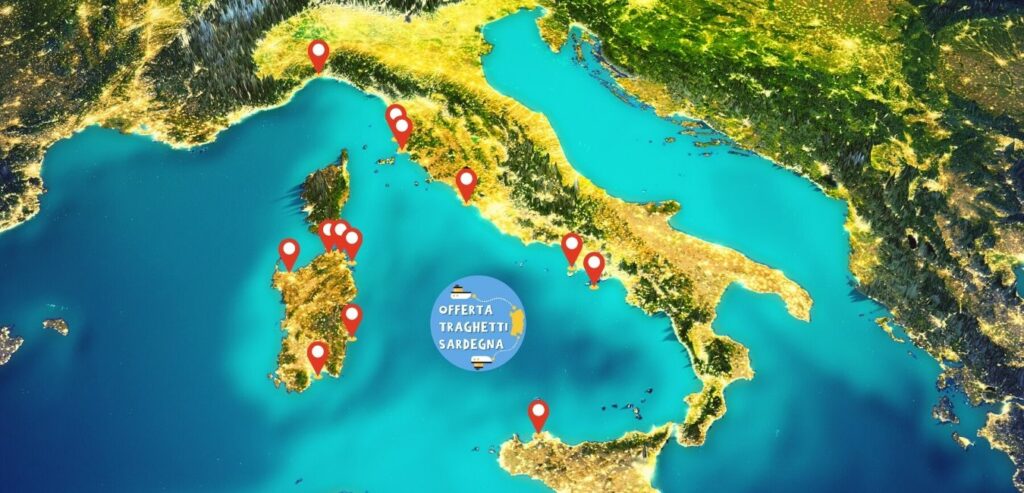 You can grind kilometres and stop when you want and where you want. The villages, as well as the beaches, are many and having a means of transport to discover and reach them will certainly be a great advantage in your favour. Departures to Sardinia are from many Italian ports, such as Genoa, Naples, Civitavecchia and Livorno. Numerous ferries depart daily, with the service becoming even more frequent during the summer months. If you have the opportunity to buy tickets for ferries to Sardinia by taking advantage of some offers, you can also enjoy considerable savings. Read on to discover our suggestions!
When to go to Sardinia
Sardinia is beautiful all year round, but it is clearly from spring until autumn that it offers the best landscapes. In fact, the island's climate is particularly pleasant, dry and hot in summer, but windy. So from May until the early part of autumn, when the days are long and the temperatures pleasant, spending a holiday in Sardinia will be a real regenerating experience, for body and soul. The towns of Sardinia are very lively, and tell of traditions and folklore, while the beaches seem like places that can only exist in dreams. A true paradise on earth!
The major Italian ports have a connection to Sardinia, which intensifies during the summer.
Among the main cities from which to depart are Naples, Genoa, Livorno, Piombino and Civitavecchia, which will take you to Olbia, Cagliari or Arbatax. Journey times and costs obviously depend on the port of departure and the season.
It usually takes more than five hours to travel during the day or eight if you embark at night. The great voyage of discovery in Sardinia starts the moment you decide on the type of holiday you want to take. Of course, as with all parts of Italy, there are also periods in Sardinia that are considered high season, where travelling becomes more expensive. Particularly in July and August, going on holiday to Sardinia will cost you a bit more, but the opportunity to save money is always there, even in that period. For example, if you choose to spend your holiday in a camper van, you will save money by booking one of the many ferries to and from Sardinia.
Ferry: cheaper than flying
Certainly, travelling by ship takes much longer than travelling by plane, but travelling by plane could make you miss out on some incredible emotions. In fact, to experience Sardinia in its entirety, we recommend embarking by ferry with your car or camper van, so that you can then move around freely. The ferry is used by so many people every summer to travel to Sardinia. And in fact it is very advantageous, as well as very comfortable if you intend to move around and spend an itinerant holiday. The important thing is to take a look at some advantageous solutions on OUR WEBSITE to compare the prices of the various ferry companies to Sardinia.
There will be plenty of opportunities to depart and the prices are often respectable. Reaching Sardinia by ferry is an excellent alternative to flying and is often particularly convenient, especially for families and those who intend to travel by their own means of transport. Imagine in fact paying for a plane ticket for the whole family and once you arrive there, renting a car to get around. Surely the final expense will be higher than booking one of the many Sardinia ferries, perhaps taking advantage of some offers.
Moreover, if you have a spirit of adventure, leaving with your own car or your camper or caravan, you will have the opportunity to discover new places while feeling a bit at home. No
When to travel by ferry: the best times
If you want to know when is the best time of day to leave, if you want to book a ferry to Sardinia, the late afternoon or evening hours are best. You will avoid the heat and be able to rest, and then start moving around the island already in the early morning hours. In addition, you will save money compared to the daytime routes.
If you are travelling with children, this can be a great solution for your holiday. If you are afraid of being bored, we would like to reassure you. The sea journey by ferry is relaxing. You will rest and spend hours admiring the view. And before you know it, you will have arrived on the island.
The sailing time can be between four and eight hours, depending on the route, which is enough time to admire the scenery from the sea and to rest before starting to discover the island.
Ferries Sardinia: offers for those travelling with the family
Booking one of the many Sardinia ferries will be cheaper than travelling by plane.
In fact, you will no longer have to worry about your luggage and, if you are travelling together with the whole family, you will spend
certainly less. There are so many offers available for those travelling with children, you will be the one to choose when to leave and with which company, choosing the best one for your needs and, above all, for your pocket. In fact, there are many companies that propose offers and promotional packages for those travelling with children. The important thing is to keep an eye on the site.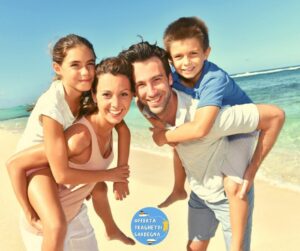 The earlier you book, the more you save
On the other hand, if you decide to wait for special offers, some companies that have routes to Sardinia release them on holidays and festivities. Some, for example, come out for Women's Day and Father's Day.
Then there are the last-minute offers dedicated to those who wait until the last minute to book their tickets. In fact, there are some very advantageous offers for those who want to book a ticket for the various Sardinia ferries by taking advantage of the last remaining unsold seats. When a company wants to sell and fill the last free seats, it often proposes interesting offers, but it goes without saying that you will have to adapt.
In fact, last-minute deals for summer holidays are less frequent than you might think so you could run the risk of waiting until the last moment before departure and not finding any offers.
An advantageous solution could therefore be to book in advance and compare the offers of the various companies, in order to book with the most advantageous offer among those proposed.
An excellent price comparison site is OffertaTraghetti.Sardegna, which will compare the various companies on the routes that interest you. You can compare routes and prices and choose the most advantageous one for your needs. This site will be useful both now and in summer, when prices are higher.
Compare the proposals of the various companies
Comparing the prices of the various ferry companies, according to the routes you are interested in departing, can also be a way to save money. If you are flexible and have no particular problems changing plans, you can easily find some good offers. You can, again, use a simulator such as OffertaTraghetti.Sardegna, which is useful for having a clear picture of prices and routes. You can then simulate the trip and apply the available offers, until you check the final cost.
Choose the most convenient route
In order to book your ferry at the best price, it is also necessary to carefully consider which route to choose. In fact, an advantage of booking one of the ferries to Sardinia is that from the coast of the peninsula there are several ports that allow you to reach Sardinia by ship, so if you are prepared to change plans it will be easier to save money.
. The main ports in Sardinia are Olbia, Porto Torres, Golfo Aranci, Cagliari or Arbatax. Shorter routes usually cost less, but it can also happen that a company offers some interesting deals on a route they intend to promote. If you decide to travel with your own car or in a camper van, you can find very advantageous routes and who knows, maybe discover an area of Sardinia you had not even considered. Sardinia is one of the most beautiful islands in the Mediterranean and, as you will have heard countless times before, it is all wonderful wherever you go.
The advantages of booking a holiday in Sardinia by ferry
Travelling by ferry allows you to cross stretches of sea with your own car. This is already a first, important advantage because it allows you to take your vehicle with you on the island. Not to mention that travelling by ferry, by sea, offers views and sights that are impossible to see by land and can be a fun experience, especially for those travelling with children.
The advantages of booking one of the many ferries to Sardinia are many.
The first is that, especially if you decide to leave in a camper van, the savings will be considerable. Of course, the ferry will cost you a little more, but by paying attention to the tips we have suggested you will still be able to save something. Moreover, by choosing this travel solution, the rest of your holiday will definitely be a money-saving one. You won't have to spend money on hotels and restaurants, because you will have everything you need in your motorhome, and you will be able to travel comfortably with your children or dog, if you have one, without having to worry about holds, luggage or carriers.
If you are worried about comfort, spending a little more you can book a cabin, which is especially useful for longer trips, but you will see that you won't find it essential. Even the cheapest ferries are equipped with all the comforts you need for an unforgettable trip.
Another very interesting aspect: you can decide your own route, even day by day, and change it whenever you wish. And, if during the trip you feel like buying a few gifts for friends, whether wine, pecorino cheese or traditional sweets? No worries. In a camper van or car you will have all the room you need without hold or surcharges. The car or campervan will allow you to move around as you please and load luggage without any weight or space limits.
And you, have you already booked your ferry to Sardinia?